A clear car ceramic coating for scratch and chemical etch resistance.
It boasts 2 micron thickness and permanent protection for factory paints. Offers a clean appearance as a new superior outer clear coat.
Opti-Coat Pro
A ceramic coating for cars, it is used for scratch and chemical etch resistance. It boasts 2-micron thickness and permanent protection for factory paints. Offers a clean appearance as a new superior outer clear coat.
Resists road salts and salty waters (Magnesium Chloride)
Easy to wash and cannot be removed by heavy-duty washers or degreasers
Extremely scratch resistant (9H)
Does not degrade or delaminate over time
Optimum Gloss-Coat
Ideal for a look with extra gloss, Optimum Gloss-Coat is an extra barrier to protect against etching and swirl marks. It blocks contaminants while maintaining a slick exterior, but you'll enjoy a simpler cleaning and maintenance process. There's no need for constant reapplication, and it can be topped off by a non-abrasive finishing wax if desired. This polymer system is perfect for nearly any surface, but any application to glass will adversely affect visibility.

Opti-Trim Restore and Opti-Trim Protect
Optimum's two-part system breathes new life into faded plastic trim and keeps it protected from future fading.
Opti-Trim Restore is a hybrid resin coating designed to make oxidized trim look like new. UV exposure takes a great toll on unprotected trim, but Opti-Trim Restore makes use of dye additives to target long-term damage.
Opti-Trim Protect is the second step in the system after getting your trim back in shape. Further fading, cracking, and UV damage is a thing of the past. Opti-Trim Protect forms a durable chemical bond with your newly-restored trim to keep it looking new. After curing, the bonded resin gives your trim resistance to any graying and damage.
Opti-Glass Pro
Specifically designed for automotive glass surfaces, Opti-Glass Pro offers supreme scratch resistance and water repellency. The highly-concentrated formula gives you increased driving safety with improved visibility, and it's a great choice for Colorado driving conditions. Ice and snow no longer bond to the surface, and you'll enjoy reduced dirt buildup in inclement weather.
Optimum Opti-Coat Clear Coating
Optimum Opti-Coat is a ceramic clear coat for supreme scratching and chemical etching protection. One layer of Opti-Coat boasts a 2 micron thickness which can be applied to factory paints, glass, metal, and hard plastic surfaces. Compared to synthetic waxes of only 0.02 micron thickness, Opti-Coat offers a permanent coat without fear of degradation from water, caustic degreasers or heavy-duty wash chemicals.
Opti-Coat Saves You Money
After application, Opti-Coat does not require any soft washes or special care products. Since it won't delaminate, degrade, or lose hardness, you won't have to worry about scratches or swirl marks in the paint job. You're free to use any washing and drying process you desire, and you won't have to worry about long-term damage from car covers in storage.
Damage to your car's paint can be exceedingly expensive to fix and can greatly decrease the resale value of the car depending on the extent of the damage. Colorado Clear Bra greatly recommends Opti-Coat to give you a peace of mind that your investment is well-protected.
Permanent Protection for Your Vehicles Exterior Surfaces
Extreme Scratch Resistance
2-micron Thickness Permanent Clear Coat
Completely Resistant to Heavy Duty Washes and Chemicals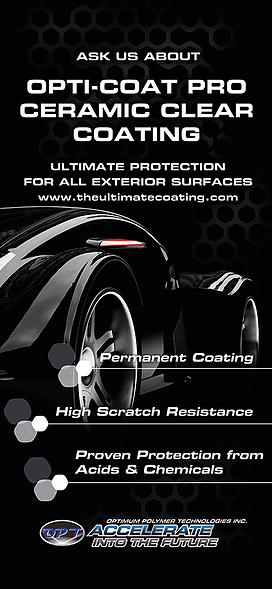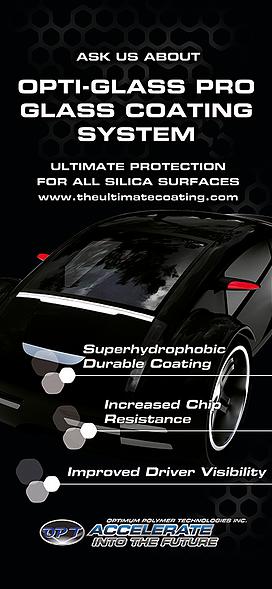 Opti-Coat is Engineered to Last
While Opti-Coat doesn't degrade over time even while taking abuse from the elements, it actually improves over time. The initial coat has a hardness rating of around 6-7, but it can eventually reach a hardness of 9h after exposure to heat. This means your Opti-Coat application will simply get stronger with day-to-day use. It's a permanent coating with unlimited durability and scratch/chemical resistance. Best of all, Opti-Coat offers a clear coat that looks fantastic even in harsh Colorado weather and conditions.
How Does it Work?
Opti-Coat is a continuous film that completely covers the surface after application. The coat chemically bonds with factory paint layers to prevent any delamination over time. This chemical bond to the substrate means Opti-Coat can stand up to impacts and stresses over time without any layer separation or loss in toughness.
It is not like a wax or polymer sealant that requires reapplication or special shampoos. You can think of it as a new outer clear coat with more resistance to chemical etching than a factory clear coat.