Paint Protection Film (PPF), also known as car clear bra, has exploded in popularity over the last decade. Our goal with this guide is to educate you about what a clear bra is, and how it can be used to enhance your car's paint protection. Keep reading Denver Clear Bra for Cars [A Definitive Guide].
We'll be talking about what the film's protective components are, the different types of paint protection films, the various installation options, and what the expected car clear bra installation costs here in Denver, Colorado.
What Exactly is a Car Clear Bra?
Simply stated, a car clear bra is a protective film for your vehicle's body paint. However, unlike common paint protective films, clear bras are specifically applied to the front side and downward-facing parts of the automobile. These areas are particularly susceptible to damage from stones and other debris.
The paint protection film is 6mm to 8mm thick and is made of advanced thermoplastic polyurethane. Applied correctly, it forms an invisible skin over the paintwork.
It can be applied to most vehicles, be it a car, truck, SUV, Tesla, scooter, or motorcycle.
Unlike common paint protection films, coatings, and waxes, a clear bra offers an advanced level of safety against paint scratches and road debris.
The clear bra is applied to the high-exposure areas of the car, including the grille, front bumper, hood, headlight covers, and fender to protect these high-risk areas from road debris, bug splatters, and minor scratches, and tar splashes.
Advanced Clarity
The clear bra is a transparent, yet thick and durable adhesive, offering maximum visibility, and merging with the car's paint seamlessly. Therefore, the original beauty and color of your car's paintwork shine through the coating.
Generally, the thicker and clearer the film is, the better. Take this as a rule of thumb when deciding on the quality of a clear bra.
On application, it is folded and wrapped inside the curved parts of the car's design to give a smooth look of perfection.
Be aware though that there are some lower quality clear bra application products available on the market which will give a rather dull finish.
Other Names for Clear Bra
The clear bra comes from the same realm of car paint protection solutions as PPF (Paint Protection Film) and is available at auto workshops and in DIY kits under names such as Clear Mask, Invisible Shield, Instant Healing PPF, Rock Chip Protection, Clear Wrap, Car Scratch Protection Film, etc.
They all differ from one another based on the brand, quality, price, and the expertise of the specialist applying them. They will all promise to offer great benefits, but not all of them are equal.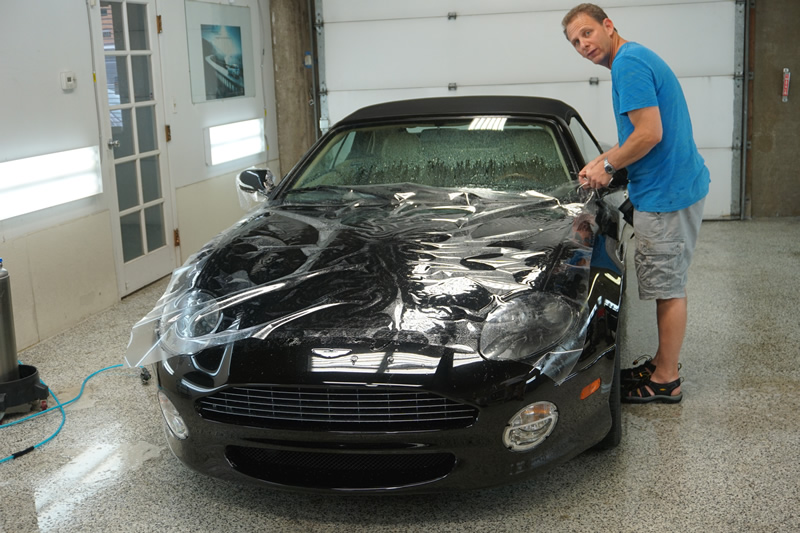 Covering Up Graphics
If you have upgraded your car's look by adding graphics to its exterior and you now want to protect your vehicle with paint protection film, you have nothing to worry about. Clear bra finishes smoothly and seamlessly over these graphics.
Is a Clear Bra Really Self-healing?
This is perhaps the most often asked question about clear bra paint protection that car owners ask us. The answer is yes.
It is self-healing up to a certain degree. This is one of the most distinguishable qualities of the clear bra which makes it a favorite of car enthusiasts.
However, to be honest, not all clear bras self-heal. Clear bras which are made of elastomeric material have the capability to self-heal. This is a stretchy substance made
of loosely attached polymers that can absorb minor scratches.
If heat is applied to the scratched area via a heat gun (only by a specialist) or the heat of sunlight, it returns to its original smoothness appearing to be healed. However, if a piece of debris scratches through the clear bra too harshly, self-heal will not be possible.
A new product now available by the name of Kavaca manufactured by Ceramic Pro is a true self-healing clear bra that does not require the application of heat to trigger and activate the elastomeric action.
Benefits of a Clear Bra
We're not saying that installing a clear bra will make your car bulletproof, however, it offers a multitude of advantages. The purpose of a clear bra is not beautification but the preservation of the car paint's beauty and its protection from minor damage. Here are some of the most prominent benefits of a clear car bra:
It acts as a force field between your car and the road debris.
It fights back against the natural forces tending to affect your car's paint.
It offers protection against bird droppings, bug splatters, acid splashes, corrosion, minor rock scratches, etching, swirls, and mineral deposits.
It protects the paint from the sun's harsh UV rays.
Longevity is what the clear bra offers. It will keep your car's good looks preserved for a long period of time.
Where Did it Come From?
You're probably wondering about the origin of this wondrous protective film.
It was developed by the U.S. military and 3M Company during the Vietnam War when the U.S. military helicopters started crashing due to the wear and tear of the rotor blades.
They worked together to develop a lightweight substance to protect the blades from atmospheric damage and that's when protection films were born out of urethane-based materials.
Through the years, the same technology, with advancements, began to be used for fighter jets, and racing cars.
By the 1990s, urethane technology protective films became available for car owners everywhere. To date, the paint protective films are constantly being upgraded and improved by manufacturers and are thus highly recommended for car paint preservation.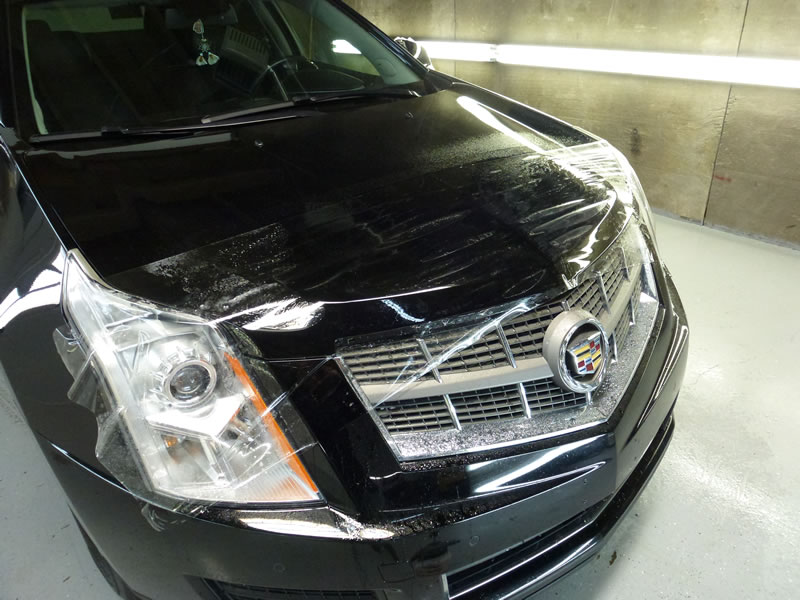 How is a Clear Bra Made?
The main component is urethane, a strong and diverse polymer composed of carbamate links.
When sheets of film are made out of this key ingredient, they are lightweight, elastic, and transparent. The film's properties match those of plastic but its elastomeric quality makes it stretchy and, therefore, non-vulnerable to minor scratches or tearing.
It maintains and returns to its original shape after incidents of minor disfiguration, hence appearing to self-heal.
A good-quality clear bra consists of more than just one layer. There is a layer of polyurethane underneath the clear coat made up of elastomeric polymers. The bottom layer is made of acrylic adhesive which makes it possible for the film to stick to your vehicle and bend seamlessly with its curves and contours.
Being completely transparent and colorless, the clear bra becomes indistinguishable from your car's paint despite its combination of layers.
How Long Does it Last?
The next logical concern of every responsible car owner thinking about a clear bra is just how much longevity it promises. A good quality product and installation done by the hands of a specialist can make the clear bra last for at least 5 to 10 years with responsible usage.
Applying a clear bra to your vehicle isn't a cheap endeavor but it is definitely an investment in your car's protection.
The highest level of clear bra manufacturing companies like XPEL offers a straight 10-year warranty against deterioration. The coating also guarantees protection against wear and tear, peeling, fading, swirls, oxidization, moisture and acid reactions, minor scratches, and rock chips.
Does it Deteriorate Over Time?
There are various specific reasons why the clear bra might depreciate with the time that you can avoid it for a better experience.
Reports of discoloration or yellowing clear bras, especially on cars with white paint, inhibited their sale for some time.
However, it was then discovered that the adhesive used oxidized under the sun's UV rays and gave a yellowish hue as a result.
Most clear bra manufacturers now use acrylic adhesives that resist oxidation. So, you can ask your specialist to use a high-quality clear bra with acrylic adhesive to avoid a discoloration experience.
Some Denver car owners also complain that their clear bra has developed blisters.
This is entirely due to low-quality application methods being employed. A specialist will know how to avoid air bubbles while applying the film.
Additionally, proper technicians first prep the car's paint by the book, which involves washing, possible claying, and polishing, before clear bra application.
Lastly, good application centers have a controlled environment for clear bra application with purified air to stop contaminants from getting trapped under the film which would later lead to the formulation of blisters.
Peeling of the clear bra is another complaint that has come up in recent years which is based on a lack of proper care.
As a responsible car owner with a clear bra installed on your vehicle, you must be careful with the use of pressure washers.
When a high-pressure hose is aimed at the edges of the bodywork or at a scratch for a long period, it will ultimately lead to peeling off of the clear bra protective film from that spot.
Maintain a minimum of a 12-inch distance to safely clean your clear bra-protected car while using a pressure washer.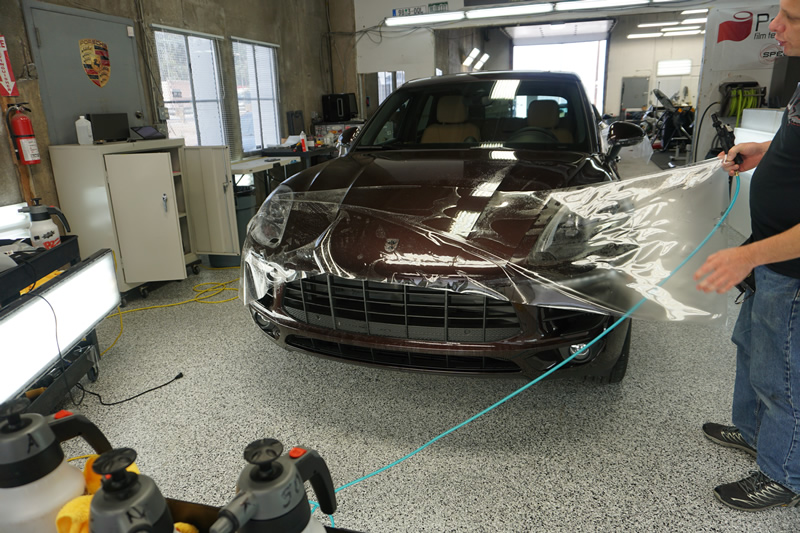 How a Clear Bra is Applied
One of the most significant factors in determining the longevity of your car's clear bra is the method of its application. A job well done by an automobile application expert will keep your car protected for even up to a decade.
The best course of action is to visit a certified installation company as they use top-shelf products and employ top-notch technicians with the required know-how.
This is how the experts will apply a clear bra to your car:
1. The surface prep work:
The quality and effort put into the prep work will determine, to a large extent, how long your clear bra will last.
First, the specialists will conduct an in-depth examination of your car's paint to check it for scratches or swirls. They will also clean the car's surface to make it free of possible contaminants, waxes, or dust particles. A completely washed and dried surface is now ready for clear bra application.
2. The application process:
You can go over the multitude of clear bra application videos on YouTube if you want to see how the process takes place. It is a delicate procedure and one we never recommend our customers perform themselves. The DIY route is easier said than done.
The protective film is first cut into customized pieces for the car, and experts then apply it to the surface, making sure no bubbles get trapped inside.
They use a moistening agent like water while applying to activate the adhesive and slowly work on installing the film.
The application needs to be perfect if you want the clear bra to last longer. That is why you should always choose certified experts to do the job.
3. Drying:
Once the paint protection film has been applied, the final step is drying the PPF, which is as important as eliminating bubbles and creases. This process is critical as it helps the PPF to stick to the car.
4. After-care:
The way you treat your car after the clear bra application is crucial.
Be kind to your vehicle and avoid debris as much as possible. Many installation experts suggest applying a ceramic coating afterward as a surefire way to give your car's paint ultimate protection and glossy beauty.
Use the suggested methods of cleaning and consult with the car-care specialists regularly.
Use the suggested products as per the directions of the clear bra experts and avoid rubbing the surface hard with different polishes as it might damage the clear bra.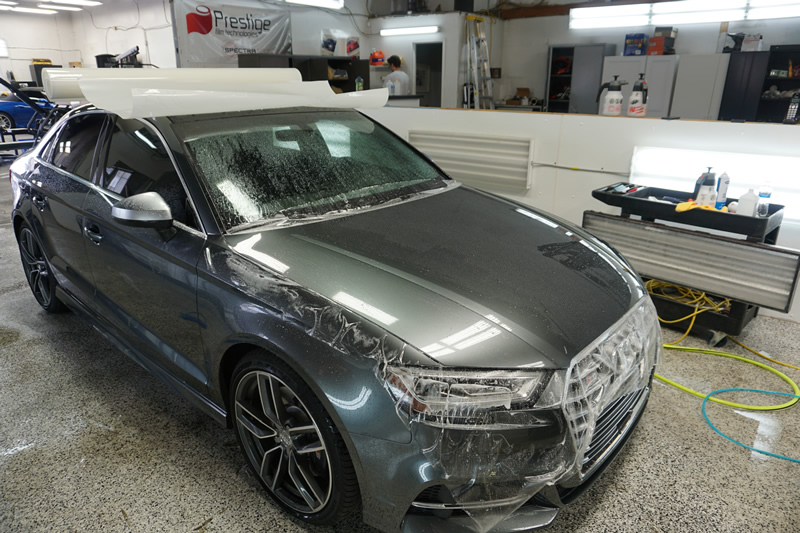 How Much Does it Cost to Install Clear Bra in Denver, Colorado?
Depending upon your car's make, model, and the type of paint protection film you choose, the clear bra installation costs can vary anywhere in the range of $550 to $2,000.
There are hundreds of brands with varying levels of qualities and prices offering paint protection film, and unfortunately, not all offer the same level of protection.
You need to do your own research and read reviews online before choosing a clear bra brand. Experts at Best Clear Bra will help you in choosing an appropriate brand that fits your budget, and car's make and model.
It is important to note that car clear bras are neither the easiest to apply nor the cheapest option. They can go a long way though if you take care of your car.
Summing it Up!
Before going for a clear bra installation on your car, be sure to survey the market for possible qualities and products. Some will last longer while some will vary in thickness and clarity.
If you want a consultation, feel free to contact our clear bra specialists who will guide you in selecting the best clear bra for your car in your budget.